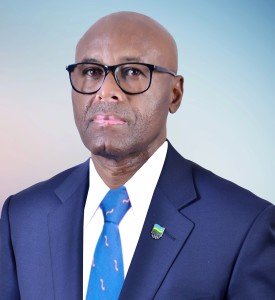 It is my great pleasure to welcome you to the official website of Rwanda National Olympic and Sports Committee (RNOSC) and Rwanda Commonwealth Games Association (RWANDA – CGA). This website was put in place with the aim of providing all the information on development of Olympic Games and Commonwealth Games in Rwanda.
Our Mission is centered on Developing, promoting and protecting the Olympic Movement in Rwanda, while Our Vision aims at building the generation of champions.
Our regular publications, will keep you informed about Sports events in Olympic movement as well as Commonwealth Games news.
I hope you will be our regular visitor and partner as we strive to develop RNOSC into a One Stop Centre of Sports with a mandate of promoting the values of Olympism to the Rwandan society.
Please feel free to share with us your views, questions and contributions through our social media accounts: Facebook page (@RwandaOlympic); twitter (@RwandaOlympic) and Instagram (@RwandaOlympic).
I would like to welcome you once again to this website which I believe you will find useful and a source of news and information about Olympic movement and Commonwealth Games in Rwanda.
Amb. Valens MUNYABAGISHA
President.