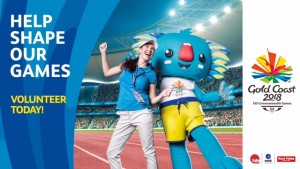 Volunteering at the Gold Coast 2018 Commonwealth Games will be an incredible once-in-a-lifetime experience for all those who are involved. It will be our chance to showcase to the world how diverse, friendly and skilled our community is.
Dedicated, friendly volunteers are the cornerstone of all great events and GC2018 will be no different. We're looking for volunteers with a wide variety of skills and experience to Shape the Games for athletes, officials and fans.
Our goal is to create a volunteer-centric program that encompasses up to 15,000 capable, committed and connected volunteers.
There will be a number of different roles across all of our venues and service areas, so if you have the passion then we have the opportunity for you.
The countdown is on! There's only 4 days left to apply to become a GC2018 volunteer, applications will close at 8pm (AEST) on Monday 20 March, 2017.
Applications can be made by visiting https://www.gc2018.com/volunteer.