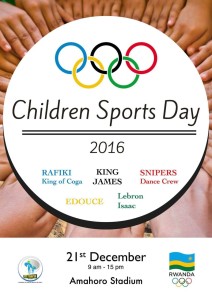 Press Release Children Sports Day
Event: Children Sports Day 2016
Date: 21st Wednesday 2016, 9pm – 3pm
Place: Amahoro National Stadium
Initiator: Rwandan National Olympic and Sports Committee and Root Foundation Rwanda
Participating Organisations:
– SOS Children's Village (300 children)
– Root Foundation (120)
– ASOLATE (60)
– Esperance (120)
– Hope of Tomorrow (180)
– Love the kids foundation (30)
– Skate – Aid Rwanda
– Les Enfants de dieu (100)
– Tumukunde Foundation (10)
– Rwandan Samarithan Choice (10)
Program:
On the 21st December, around 1,200 vulnerable children from Rwanda are going to celebrate the
end of the year together in Stade Amahoro. After a march from RDB to the Stadium in the morning,
the children will parade during the official opening ceremony inside the stadium.
Throughout the day, olympic athletes, famous artists such as King James and Rafiki, great dancers
like snipers dance crew and Lebron Isaac will be inspiring and entertaining all our children. The
Rwanda Athletics Federation will be offering several sport workshops and use this opportunity to
detect potential future athletes. Other activities, such as frisbee, basketball, skateboarding will be
discovered by the children. The celebrations will end with performances from the organisation's
children.
Special Guests:King James, Rafiki – King of Coga, Snipers Dance Crew, Edouce, Lebron Isaac
Comments:
– first ever initiative of this kind of event in rwanda
– made possible because of many people supporting the good cause of the event
– yearly / repetitive event with huge potential to address more and more children and offer more
– prospect for next years: willing to include refugees, people with disabilities and orphans
Quotes:
Robert Bayigamba, President, Rwandan National Olympic and Sports Committee
"As the President of the Rwandan National Olympic and Sports Committee, it is my duty to spread
the Olympic values of solidarity and fraternity towards the vulnerable children of Rwanda this
December. Today the whole RNOSC is proud to initiate this first event of this kind in our country.
We will make this children enjoy the moment and create hope for their future".
Paul Klahre, Assistant Director of Root Foundation, Co-initiator of the event: "Everyone has to
admit the great impact the event is going to have on our children. Simply by dedicating time and
joint efforts towards our needy children, we – as the Rwandan society – are going change the lives
and attitudes of our children.
I can't wait to see their smile entering the Stadium, experiencing the affection every child
deserves".
Antoine de Kervern, RNOSC, Co-initiator: "With this very ambitious project, we have achieved
raising awareness of vulnerable children of Rwanda. Impacting the lives of our children through
sports and inspiration, is a vision I am proud to turn into a tangible event".
Rafiki Coga, Musician, Ambassador of Children Sports Day 2016: "I do agree when Fred Rogers
says that anyone who does anything to help a kid is a hero for me. Today, let's think about what we
can do, not what we cannot. Today, let's all be heroes".
Alphonsine Agahozo, National Swimming Champion, Ambassador: "With this event, we are going
to a have a great impact on vulnerable children of Rwanda".
Links for more information:
Facebook: https://www.facebook.com/ChildrenSportsDay2016/?fref=ts
Trailer: https://www.youtube.com/watch?v=6W-OHxl3iYQ&feature=youtu.be
Rafiki Speech (Kinyarwanda): https://www.youtube.com/watch?v=UibYRJSHV8I
Rafiki Speech (English): https://www.youtube.com/watch?v=uLoh4vWKDm4
Contact
Rwanda National Olympic and Sports Committee
Jean de Dieu Mukundiyukuri, Director
email: jadomuku11@yahoo.fr mobile: 0788 694 225
Antoine de Kervern
email: antoine.de.kervern@gmail.com mobile:0787 810 347
Paul Klahre, Assistant Directorof Root Foundation Rwanda
email: rootfoundation@outlook.com mobile:0723 368 256/ 0781 448 765