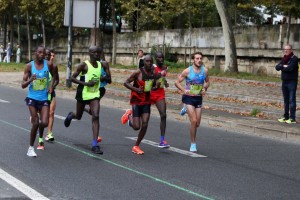 Sunday
20km de Paris: Top five
1. Collins Chebi (Ken) 00:58':28"
2. Josphat Kiprono Menjo (Ken) 00:58':34"
3. Florian Carvalho (Fran) 00:58':40"
4. Felicien Muhitira (Rwa) 00:58':43"
5. Elvis Tarabach (Ken) 00:58':43"
Rwanda's Felicien Muhitira missed out a podium finish by just three seconds after finishing 4th in this year's 39th edition of the 20 Kilomètres de Paris (Paris 20 km) that took place in the French capital, Paris on Sunday.
Twenty-two-year old Muhitira, who was making his debut appearance at the annual event finished in 58 minutes and 43 seconds, 15 seconds behind the race winner, Collins Chebi of Kenya (00:58':28").
The Rwandan runner was beaten to the bronze medal by Frenchman Florian Carvalho, who posted 58 minutes and 40 seconds while Kenyan Josphat Kiprono Menjo scooped the silver medal.
The annual race, which holds IAAF Bronze Label Road Race status and is always, held in October since 1979, takes place on the streets of French capital, Paris, attracting top international athletes from around the world.
Muhitira competed in the race just six days after winning the 98th edition of Sedan-Charleville race in record breaking time that had stood for 54 years, set by Norman Ameur, who had posted 1:11:08 in 1963.
A week before last week's triumph, Muhitira, who races for Italian team Potenza Picenza, finished fifth in the Le Lion Semi Marathon International after clocking 1 hour, one minute and 56 seconds to set a new personal best.
Dieudonne Disi, now retired, remains the only Rwandan athlete to have won this race when he claimed it in 2009 after posting 59 minutes and 33 seconds.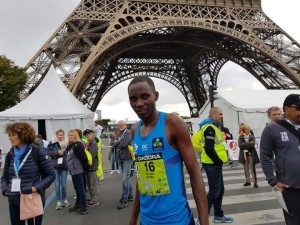 Muhitira now turns focus on his final race in France, the Marseille-Cassis Classique Internationale half marathon scheduled for October 23.
Source: The New Times Rwanda.