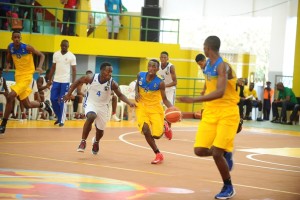 Introduction
HISTORICAL BACKGROUND OF BASKETBALL IN RWANDA:
1. Before independence
In 1930, Basketball is brought in Rwanda by Catholics Priests (Missionaries), and the first appearance was in South Province in High Schools. At that time, basketball is played in schools by young students.
2. After independence (1962)
Basketball still be played in High Schools and new teams were created in Army side and from some public institutions and Sportive associations has been created to promote basketball in all provinces in Rwanda, In 1974, Rwanda Basketball Federation is created and the first national League was organized in 3 years later for women and men. Now the Rwanda Basketball Federation (FERWABA) is Member of Rwanda National Olympic Committee, affiliated to FIBA, Zone AFRIQUE; it works as National nongovernmental organization recognized by the Rwanda Government.
3. During 1994 Genocide of Tutsi
The tragedy of 1994 touched basketball development: Players, Spectators, Leaders of teams and federation dead, Infrastructures was destroyed: Courts, gymnasiums in schools and in all provinces
4. Period post Genocide of Tutsi
At that time, Basketball restarted and many was created in schools and by different basketball fans and competitions and some clinics were organized
5. Who are we?
Rwanda Basketball Federation (FERWABA) is a national umbrella organization of all basketball clubs and associations. Whose core business revolves around the following goals:
– Provision of technical training for the players, coaches and referees.
– Organizing local and international competitions.
– Creating forums for the exchange of experiences and ideas.
Vision
"Effective service for quality basketball in Rwanda"
Mission
To provide an enabling environment for skill development, talent nurturing and high level competition for basketball as a sport in Rwanda
Our Objectives
1. Promote and develop basketball policy in Rwanda,
2. Capacity building of technical and moral qualities of our officials (Coaches &
Referees),
3. Represent and defend benefits of its members (Clubs, Associations),
4. Develop basketball program for Youth,
5. Organize and participate in different competitions (National and
International).
Core values Commitments
The Federation is committed to serve with courtesy, honesty, integrity and fairness.
It therefore commits itself to:
– Treat all its clients concern with confidentiality and urgency
– Respond to all correspondence as soon as possible upon receipt
– Accountability in all activities
Commitments/service charter
The Federation is committed to serve with courtesy, honesty, integrity and fairness.
The Federation commits itself to:
– Treat all its clients concern with confidentiality and urgency.
– Respond to all correspondence as soon as possible upon receipt.
– Serve with Account in all activities
Sportives objectives of FERWABA
A. Short term objectives
FERWABA has the following short term sportive objectives:
– Consistent and innovative organization of National League and National tournaments for all categories,
– Organize Youth league annually
– Supports and helps Clubs which represent our country in zonal and Continental competitions,
– Annual programs of capacity building of technical officials (Coaches, Referees, Administrators…) in collaboration        with FIBA AFRIQUE, Ministry of Sports and National Olympic Committee of Rwanda,
B. Long term sportive objectives
FERWABA has the following Long term sportive objectives:
– To have a structured administration by 2017,
– To be ranked top 4 in Africa by 2017,
– To be qualified in World Cup U17 in 2021,
– To be qualified in World Cup U19 in 2022
Contacts
Our Offices are located at Amahoro National Stadium
 Phone number: 0788302618 (President)
                                   0788454354 (General Secretary)