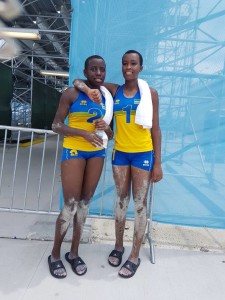 For Its first appearance to the Commonwealth Youth Games Rwanda won the first match in Beach Volleyball against Trinidad and Tobago 2-1 and in Tennis, HABIYAREMYE Ernest beat Emmanuel Plange from Ghana who is ranked number 8 in the Commonwealth Youth Games and 1195 on World ranking 2-0 (7-6; 6-4).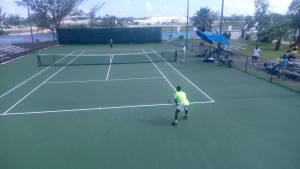 On second day, the The beach volleyball pair of girls, namely Penelope Musabyimana and Valentine Munezero lost their second match against the New Zealand 0-2 (10-21; 19-21).
As HABIYAREMYE  Ernest the 1495th  on World ranking continues his journey for qualification, the girls have just made Rwanda proud by qualifying to the Commonwealth Youth Games quarter finals in History. They smashed the Saint Lucia Team a straight forward game of 2-0 (21-15; 21-9).  
The Commonwealth Youth Games are held every four years with age limitations for athletes of 14 up to 18. This year, the games are taking place in Bahamas from 19th to 23th July 2017.
Rwanda is being represented in Beach Vollyeball and Tennis.