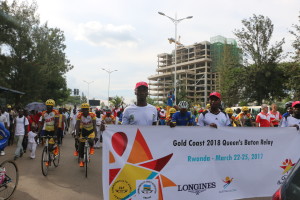 On Friday, March 24, 2017, the third day of the Queen's Baton Relay in Rwanda was finished with a Walk from Kigali Convention Center to Petit Stade, Remera.
It's a walk led by The Permanent Secretary, Lt. Col. RUGAMBWA Patrice in Ministry of Sports and Culture on behalf of Rwanda as a Commonwealth Country included among the countries which the Queen's Baton is travelling in and The President of Commonwealth Games Federation, Louise Martin CBE accompanied by the President of Rwanda Commonwealth Games Association, Amb. MUNYABAGISHA Valens.
The Queen's Baton Relay walk aimed at inspiring the people of the Commonwealth to come together and showcase the Gold Coast 2018 Games to follow and promoting its values of unity and peace.
The Queen's Baton is passed from hand to hand of over 400 participants composed of the representatives of National Federations, athletes, youth and other sports movements' members until to the finish line.
Louise Martin, the president of Commonwealth Games Federation in her speech said "This Gold Coast 2018 Queen's Baton is a symbol of our past, present and future, we have to work hard, we have to train hard whether you win a medal or you lose, the important thing is a friendship as results between athletes, nations after the competition."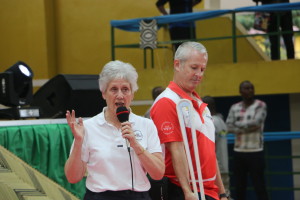 "When you touch the Queen's Baton, a bright boundless energy light up the baton in colours that reflect the warmth and spirit of Gold Coast.", She added.
She finished her speech with explaining that the Queen's Baton is made of macadamia wood (native to the Gold Coast), Stainless steel stringer (3-digit alpha codes of all nations and territories), leading edge (mode with reclaimed plastic from the ocean), LED illumination (lights up with boundless energy), Queen's message window (creates a visual connection), Spinifex paper (traditional techniques, modern material technology) and GPS on-board (track the baton in real time).
The Permanent Secretary, Lt. Col RUGAMBWA Patrice in his closing remarks said "The visit of the Queen's Baton Relay has given Rwanda a great opportunity to know more about the Commonwealth and raise awareness on Commonwealth Games".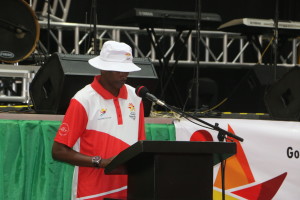 "The Ministry of Sports and Culture in partnership with Rwanda Commonwealth Games Association and concerned sports federations will provide needed support to allow Rwandan athletes who will participate in XXI Commonwealth Games in Gold Coast for their preparation in order to get the best performance in different sports disciplines." He added.
He closed his remarks by thanking the Queen's Baton Relay team and all people who contributed to the success of the event.
Before the Queen's Baton Relay delegation continues its journey to Uganda, today Saturday, on March 25, with the Minister of Sports and Culture, Hon. UWACU Julienne and Rwandan Sports Movement joined the local people of Mwurire in Rwamagana district in community work "Umuganda".